My new shiny toy: the Archos 70
Tablets, and especially Android tablets, are going to be all the rage this year, with more new tablets announced every week than Lindsay Lohan had rehabs. Because I'm a geek with money to waste on unneeded electronics, I've decided to be part of the early adopters with my new shiny toy, the Archos 70.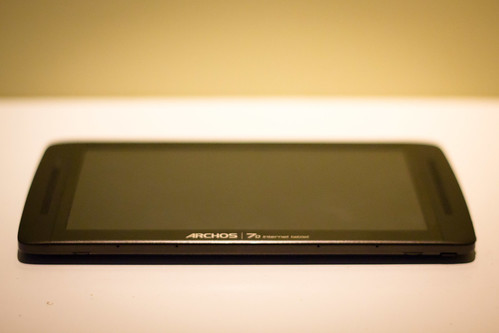 I would have usually waited on more mature tablets, along with a more mature version of Android (hopefully Honeycomb), but there are a few reasons I jumped on this one:
I've been a relatively faithful user of Archos' previous portable media players (I've owned 2 other devices of theirs in the past, the AV500 and the 1st gen Archos 5).
The Futureshop warranty on my Archos 5 was about to expire, so I returned it and cashed in its retail value as a gift card in order to upgrade to the latest model "for free".
I need a portable video player first, and a tablet second, so I don't care much if the tablet experience is not so good.
I'm not playing games on my phone, and I don't intend to play games on my tablet either.
Reading through Engadget's review of the Archos 70 and his big brother the Archos 101, all I can say is that it's a pretty fair review. If you don't want to read the whole thing, the conclusion is that although those devices are clearly not as good as the Galaxy Tab or the iPad, for less than half the price there's really nothing you can complain about. I'd go as far as saying that the price/quality ratio is actually higher on the Archos 70. This is especially true when compared to the Galaxy Tab, because this one is bound to be obsolete very soon (if it's not already by the time I finish writing this) – at least the iPad features an OS and apps that are very well designed for the tablet format and are already quite mature.
Now there's a few things I'd like to add to Engadget's review, because I think they didn't highlight some of the things the Archos 70/101 are doing better than the competition.
Body Design
Archos has been until now mostly a portable media player manufacturer, and it shows in the Archos 70. First, the device has a widescreen aspect ratio, unlike the big shots out there. This means that when watching movies and recent TV series, you will have smaller black bars around the screen, if any at all. For example, this is it playing Dirty Harry… See? No bars, no cropping. Just full-screen bad-assery.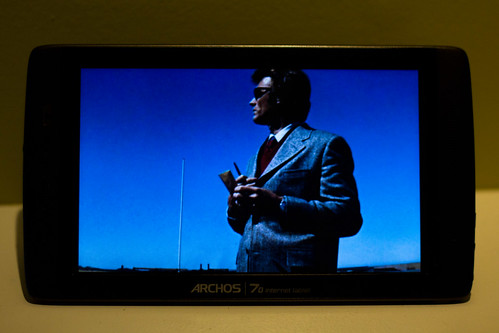 Speaking of the screen, it's bright enough that you can watch videos outside to some degree, but it's not as good as the iPad or Galaxy Tab screens, obviously. The view angles are particularly pretty horrible, but I don't think it's a big deal because it's not like you can cram several people in front of a 7 inches screen anyway. For personal use, it's "good enough".
Second, the device has a built in stand you can unfold in the back. It's very useful if you're watching something while doing something else, like eating or cleaning your camera lenses or whatever. Way better porn watching experience, too 🙂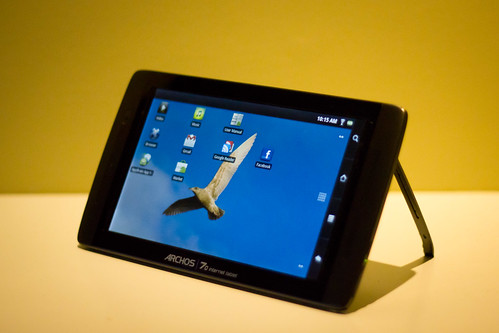 The stand itself is cheap plastic and feels a bit fragile, so I wouldn't be surprised if some people broke it at some point (which would suck).
By the way, I was expecting something bad in terms of device body after reading Engadget's review, but it turned out okay in my opinion. It sure doesn't feel as nice and solid as an iPad, but it doesn't feel like a Playskool toy either. And I dropped it a couple times already and it's completely fine (unlike an iPhone 4…). True to Archos' tradition, however, the power and volume buttons on the side are a bit wobbly, and I expect them to be the first thing that breaks down. I wish they would learn to make sturdier buttons…
Another thing Engadget mentioned already, but it's good to mention it again, is how thin that tablet is. It's almost 50% thinner than the iPad. See how it's even thinner than my iPhone 3G: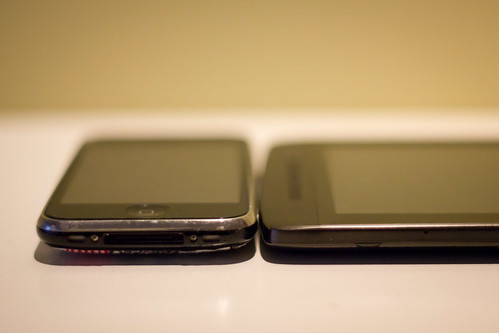 It's also super light. Archos says it's 300 grams, which is less than half the iPad's weight (although that's not fair since the iPad is way bigger, with a 10 inches screen). My point is that it's just a bit heavier than a Kindle 3 (at 250 grams), so it feels pretty natural to hold the Archos 70 in one hand while riding the bus or the subway. This is perfect for me since that's where I watch most of my videos with it.
Media Playback
Another thing Archos is famous for is releasing devices that can read all the major (and even some minor) audio and video codecs. These tablets are no different, and so far anything I've thrown at it has been playing fine without the need for transcoding. Also, and that's a big feature for me, the device appears as an external USB drive when you connect it to your computer – no need to go through some painful piece of software like iTunes. And you don't even have to connect it at all since you can put stuff on an external mini-SD card (not included). Like any other Android device, it will scan the SD card when you mount it back and all the media that's on it will be available. Hell, you can even just push stuff on it wirelessly with FTP or any other Wi-Fi syncing app. You're free! Yay!
Speaking of Wi-Fi, the Archos 70 does a good job of integrating with your home network. The custom Video Player app can not only read local media, but also media from your SMB shares or your UPnP servers.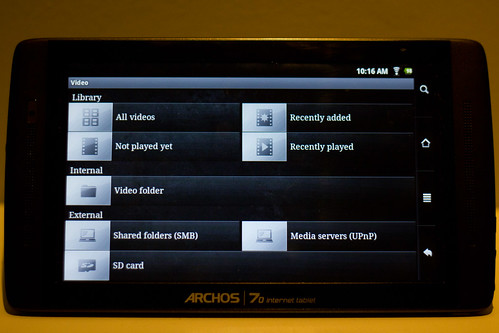 If I want to finish watching some TV series episode in bed before going to sleep, I can stream it from my NAS or my XBMC box downstairs. The only thing that wouldn't play was uncompressed rips of Blu-Ray movies (we're talking 25 to 30 Gb HD video files, here!). I would get this error message: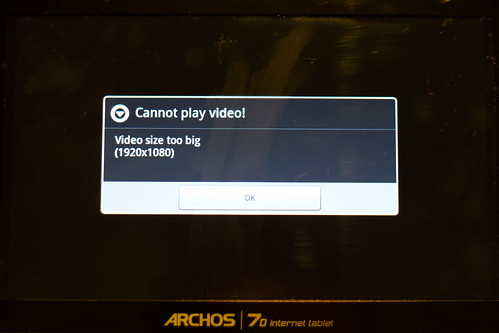 The rest would play smoothly across Wi-Fi. Here's Serenity streaming from my NAS. I can even switch/toggle the audio or subtitle tracks and all that jazz.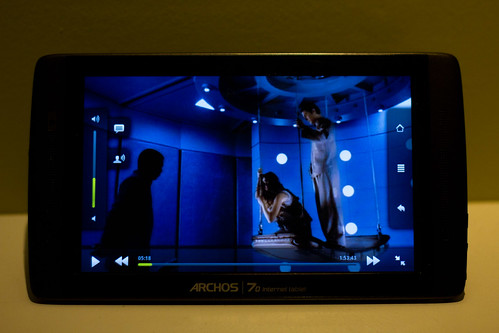 Applications
The main thing that kinda sucks about applications on the Archos 70 is how Archos decided to not install the Google Market, or any of the Google applications. That was probably to avoid having to get the device certified by Google or something, but still, it's pretty lame. Instead, they want the user to go through some other market, AppsLib, which is decent (it has quite a lot of applications) but, well, is only a subset of the main Google Market.
Thankfully, and because we're talking about Android here, people hacked the device pretty quickly. Archosfans was, I think, the first to offer an APK of the official market app, and that's what the Engadget guys point you to, but now I recommend using the one from XDA. In both cases, it's super simple: you just download a file and launch it with the built-in file browser. Once that's done, you can get GMail and Google Reader and whatever you feel like downloading. You can even run AppBrain and copy all the apps you already have on your phone, if you have an Android phone. You're free! Yay!
Performance
I don't care much about performance, since I'm not using the tablet for anything heavy like gaming or whatever, but in case you're curious, here it is. I ran the Quadrant Benchmark on it and got a score of 1271 without tweaking anything on the device (e.g. it still had applications running in the background and all that).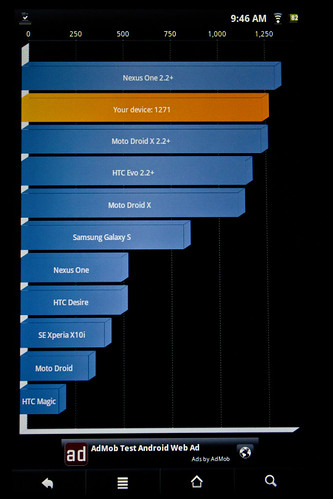 People around the web can get scores around 1500 and more (above the Nexus One running 2.2) by killing all running apps and setting the "Power Management" to "Overdrive" in the system settings. Now, benchmarks like these don't mean much, I know. For example the OS version alone seems to play a big part in it (see the difference between the Nexus One running 2.1 and 2.2 on the previous screenshot?). But at least it gives a rough idea of where the Archos 70 falls in terms of performance.
Just for laughs I installed a few well known games like Angry Birds or X Construction Lite and they ran very smoothly. Some people reported, at first, that a few games were unplayable, but it looks like it got fixed when Archos released the 2.0.71 firmware. And if you're looking for serious speed and power, the XDA guys have already released a few custom kernels for the Archos tablets, some of which feature CPU overclocking.
Conclusion
So far I'm quite happy with my new toy, and the only thing I'm worried about at this point is how long it's going to last – Archos usually cuts costs with cheap builds that tends to break or malfunction after a couple years (but then again, my Apple devices haven't lasted much longer in my experience, although it's usually for different reasons). I originally expected to only use it as a portable video player, ignoring most of the other features like I did with the Archos 5 (it had a web browser and all that, but the horrible resistive touch screen and crappy performance made it unusable for anything else than media playback). But it turns out the Archos 70 is a very nice tablet, and I find myself browsing the web, checking my email and social networks, and all that stuff more and more. For example it's a pretty nice way to catch up on saved Google Reader or Instapaper articles before going to sleep. It's also a very decent eBook reader.
It's the best gadget I've bought since my first iPhone, although it's mostly awesome because it's so cheap. But still, it's awesome.